As an Agile coach and trainer, I have had many rewarding Agile experiences working with clients. When something great happens for them, I gain satisfaction from seeing them learn and grow. Today, I was pleasantly surprised to be on the receiving end of a great Agile experience! I had reached out to a company with a question, and they responded and solved a problem in a very Agile way. 
A bit of backstory: I had some downtime between Christmas and New Year's, so I was doing what most people do during this time of year—researching tools to help my company be more effective as we grow. 😉 I was specifically looking at our back-office tools for client engagement management (time-tracking, expenses, invoicing, etc.) to simplify things for our consultants, administrators, and clients. I decided to give Harvest a whirl and immediately liked it more than our previous time-tracking and invoicing tools (and by the way—it has continued to work great!). After a couple weeks using Harvest, I found one issue that I didn't like: if you decide to accept online payments from clients, you had to allow both AHC (bank transfer with no fees) and credit cards (2-3% fees!). We'd rather not pay needless credit card fees, so on January 6, I sent a message to Harvest's customer support to see if there was a way to disable the option to accept credit card payments. Daniel Marino @starzonmyarmz, a Product Designer from Harvest, responded in less than 24 hours to let me know that turning off credit card payments was not currently a feature. But he didn't stop there—he asked why I wanted the feature disabled and how I would want it to work if it existed.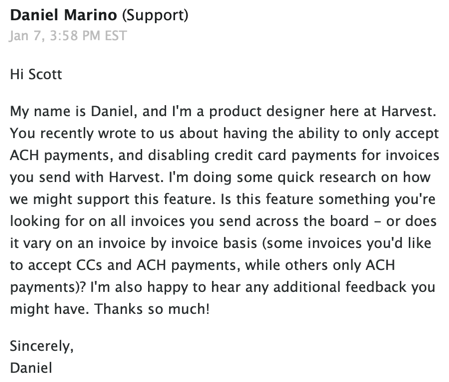 I responded to his questions and thanked him for taking the time to ask. I assumed that was that, and I'd just have to live with not having the feature. My past experience with our previous time-tracking and invoicing tool was that requests typically were given lip service and then quickly ignored. 
You can imagine my surprise when I opened Harvest on February 15 to find a new feature announcement at the top of the page!
To my amazement, it was exactly the feature I had requested. Simple and minor, but they listened—and delivered on my request less than 40 days from when I contacted them. 
Customer focus, delivering value, adapting to change, and short cycles. Wow, that's what we train and coach our clients to do all the time! That is Agile. And I'm thrilled to have a simple and personal example to share with our training workshop attendees. Go, Harvest!